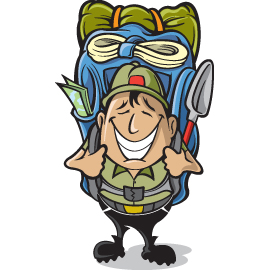 Vacationing is easier said than done after getting a Lap Band. Salt Lake City might grow dull, and the lure of a foreign country might sound tempting, but sticking to your Lap Band diet while abroad will be even tougher than it is for you at home. Instead of taking a traditional vacation, give an active get-away a try. Camping is a great way to spend time outdoors with your friends and family as you are able to relax and get in some great exercise.
Walk your way to weight loss.
Few activities offer a better form of exercise for weight loss surgery patients than walking, and few places are better for walking than a wilderness preserve. Hiking is a low-impact aerobic activity that will help you burn calories without putting undue stress on your joints and muscles while also giving you some incredible views of Mother Nature on the trail.
Just make sure you stay within your ability level—straining your body beyond its limits can ruin your camping trip and your weight loss progress. Take a good look at the difficulty level of any trail before starting, double check that you have all the water and gear you'll need and, as always, check with your Lap Band surgeon to make sure you're ready for the demands of physical activity.
Utah is a fantastic place for camping. As you plan your trip, keep the following tips in mind:
Bring plenty of water and remember to take small sips frequently so you don't grow dehydrated.
Bring along plenty of small healthy snacks to keep you full along your journey.
Always travel in a group so that if something goes wrong, there are others there to support you along your journey.
Don't attempt to take on more than you know you can handle. Try to plan a hike that isn't too intense for your level of regular activity.
Be cautious of the weather patterns and have enough clothing with you to help you stay dry and warm.
Have you tried taking a camping trip since your Lap Band surgery? Let us know your favorite place for a nature-inspired weekend getaway in a comment below.