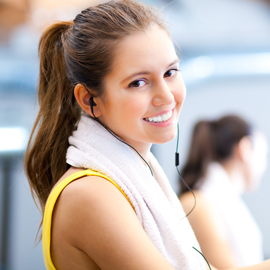 After bariatric surgery in Salt Lake City, a gym membership can take some of the struggle out of making exercise a part of your daily life. Gyms have amenities that we usually can't get on our own: weight rooms, indoor swimming pools, experienced trainers, exercise classes, juice bars—for many fitness centers, the list goes on and on. These perks, and your monetary commitment to them, can keep you motivated in your exercise routine like few other things.
Still, not every gym will be right for you, and there seems to be a different gym on every block of Salt Lake City. To make the most of a gym membership after bariatric surgery, it helps to find the fitness center that works best for you, one that meets your every need and keeps you coming back for more.
To find your perfect gym, it's important to look at:
Location. Even if that brand new mega-gym on the other side of town has many enticing features, you may want to think twice about joining up. Sure, a 25-minute drive may not seem like much right now, but it will be a significantly bigger barrier after an exhausting day at the office. Try to find a gym close to home or, if you hope to exercise in the evenings, between your home and workplace.
Features. Every gym offers something different to its members. You need to think about what you want most in a gym and find one that caters to your interests. If you're a relatively inexperienced or exploratory exerciser, it will be beneficial to find a large fitness center with opportunities to learn from trainers and classes. If you've already fallen for a workout like yoga or Pilates, it may be better to find a gym that exclusively offers those activities. Fortunately, most gyms offer trial memberships that give you the chance to take a test drive.
Reputation. Your impression of a gym is obviously the most important, but the opinions of others may guide you to a good fit. Ask your friends, family members and coworkers for recommendations—if you join the same gym, you may end up with a workout partner in the process. If you're testing out or touring a potential gym, try asking members for their honest opinions of the facility. You can also get an idea of a gym's reputation with online ratings sites like yelp.com.
A gym membership can be an invaluable tool, but it can also be expensive. Get the most bang for your buck after bariatric surgery by finding a gym that fits just right.
What are some of your favorite gyms in Salt Lake City, Ogden, Lehi and Elko? Tell us in the comments below!