Beverly - 143 lbs. Weight Loss
Submit Your Testimonial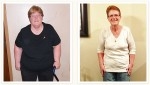 It took learning I had type 2 diabetes to force me into seriously considering weight loss surgery. Like many of you, I had tried everything: Weight Watchers, Jenny Craig, Nutri-System, low-carb and low-fat to name a few. If I had a dollar for every pound I have gained and lost in my lifetime, I'd be rich! It was while visiting my hand surgeon that I was told, "You are still a relatively young woman. You have years ahead of you. I tell you this because I care about you. Call Christina Richards at BMI and find out about gastric bypass surgery." He even called and got all the information for me. At this point I weighed my all-time high of 277.5 pounds. Along with diabetes, I had high blood pressure, sleep apnea, was on anti-depressants and was forced to walk with two canes. Within a few months I had been approved for surgery and was well on my way to getting my life back!
That was 143.5 pounds ago! My gastric bypass surgery was November 27, 2011. Fourteen months later I weigh 134 pounds. I still have a few pounds left to go, but I wouldn't change a thing! I no longer have diabetes, my sleep apnea and high blood pressure are gone, and no more anti-depressants! Thank you for giving me my life back. I truly believe were it not for this life-saving surgery, I would not have survived another five years. I ask myself every day, "Why! Oh why, did I not do this years ago?!" Do more than just think about it. Do it! And never look back!
If you would be willing to share your weight loss experience, contact us to send your story and pictures.