Bret - 114 lbs. Weight Loss
Submit Your Testimonial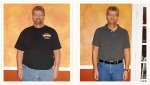 I was never really heavy until I was in my mid twenty's. I have EDS (Ehlers-Danlos Syndrome) which has caused my knee caps and other joints to dislocate ever since my early teens. In my early twenty's I had surgery to tighten the ligaments in my knees to help them from dislocating. They had tightened the first knee so much it took over a year before I had a near normal range of motion. Due to my knee problems, my weight continued to increase over the years, as high as 340 lbs.
I have experienced all the prejudice that all heavy people experience. Fear of flying, not because of safety but because you're the person everyone hates to sit next to. Even the CEO of the company I work for has made comments about my weight. In an award I received for employee of the month, in which we get to use the company "Bug Ball" a Volkswagen Beetle painted to look like a basketball for a month, he announced in front of everyone they may need to come up with a different prize because he didn't think I would fit into the car.
I had tried multiple ways to lose weight and had failed at all of them. Once my doctor told me that knee replacements were not an option until I was 65 or lost at least 100 lbs., I decided to look at surgery to help me lose the weight.
After my surgery, within the first seven months post-op most of my co-morbidities were gone as well as 114 lbs. My knees feel better than they had in 5 years, and I will postpone knee replacements for a couple of years. I know that weight loss surgery is no cure for arthritis but it sure helps. Now as I turn 50, I'm at the same weight I was when I had knee surgery at 23 and it is weird to hear people call me skinny instead of fat. As for my personal goal it seems to be a moving target as I keep beating my own expectations and I can't express how good it feels to go to the store for an ego check and find out I can fit into a smaller size each month.
If you would be willing to share your weight loss experience, contact us to send your story and pictures.