Heidi: 143 lbs. Weight Loss
Submit Your Testimonial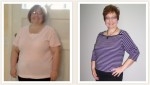 My name is Heidi and I had Laparoscopic Banding Surgery April 30th 2009. I have lost 143 lbs. I am very happy I had this surgery.
I can do things I was unable to do before, such as the ability to cross my legs, I can bend over and put my shoes on by myself, I can do physical activity that I could not do before. I love it that I can buy smaller, more stylish clothing without needing to buy from the plus size section. However, the most amazing change is doing things with my son that I was unable to do before. I went to Boondocks with my son and was able to race him in the go carts. I would not have been able to do this had I not have had the surgery.
In addition to the physical changes I am also a healthier person. Prior to the surgery my Hemoglobin A1c was 9.0 and my doctor was ready to put me on insulin; now, after surgery, my Hemoglobin A1c is 5.6!
If you were to ask me if I would do this again, I would tell you "in a heartbeat!," I'd recommend weight loss surgery to anyone!