Julie - 257 lbs. Weight Loss
Submit Your Testimonial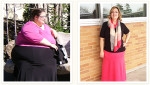 I had surgery on December 20th, 2011, and really, it was a life defining moment for me. I spent a long time researching surgical options and selecting a surgeon before making this decision (a couple of years!). It wasn't something I went into on a whim. I knew that if I was going to make this decision, it was going to be life altering. I think at the time, however, I was just thinking about all the things I would be giving up – not necessarily the things I would gain. I ended up selecting Dr. Richards and BMI because I really was interested in their entire program. I knew that having the support of the entire team – surgeons, medical staff, dietitian, trainer, etc. would be crucial for me. They spent so much time with me every step of the way, as I struggled through the first few months, and later as they cheered me on through my successes. They coached me through the realization that these habits I was forming were permanent, and they helped me see the joy in the choices I was making.
While I am still a "work in progress", to date I have lost 257 pounds. I no longer have sleep apnea and my PCOS has drastically improved. I no longer take any medications (other than my daily regimen of vitamins!) and my life has changed so much! I just did my first 5K and (surprisingly!) I really enjoyed it – something I would never have imagined two years ago. I have more energy than I ever could have dreamed and I am so happy that I finally made the decision to have surgery. I will forever be indebted to Dr. Richards and the BMI team for the gift they have given me.
If you would be willing to share your weight loss experience, contact us to send your story and pictures.