Kim - 140 lbs Weight Loss
Submit Your Testimonial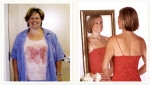 I have been overweight for my entire life. My first memory of school was the other children calling me names. I tried my first diet when I was in high school and successfully lost 35 lbs. I felt slim for the first time in my life. However, this was short lived (approximately 2 years). I then gained that weight back, plus more. I continued dieting during my 20's. I would lose 20-30 lbs only to gain back 40-50lbs. It was a vicious cycle and I was only gaining weight. I felt like I was losing the battle. I had mild symptoms of reflux that I treated with over-the-counter medications, at least 4-5 times per week. I experienced problems with my period (no menstruation for months at a time). I experienced joint pain continually (which I treated with over-the-counter medications). When I tried to walk, I was out of breath and had pain in my lower back and legs within minutes. I was on and off of anti-depressants for 10 years. I was also told that I snored and breathed funny when I slept.
I had heard about and thought about gastric bypass surgery for over 8 years. I wanted the surgery primarily to help with my depression and low self-esteem issues. My son was very active and I wanted to be able to keep up with him. I wanted to be able to go on bike rides, rollerblade, and snowboard. I wanted a life where television wasn't my primary activity. I didn't want to feel embarrassed about my weight when I was in public. I didn't want other people staring at me because I was fat.
I looked into many different surgical weight loss centers in Salt Lake City. However, I chose Dr. Richards because of insurance coverage and her surgical experience in laparoscopic procedures. I also chose this surgical weight loss center because the entire team (dietitian, exercise physiologist, and psychologist) was very friendly and genuinely wanted to help me succeed in every step of the surgical weight loss process.
Since my surgery I have lost a total of 140 lbs. I am going on daily 2-4 mile bike rides. I started skiing and snowboarding. I love finding new rollerblading trails. My son loves having a mom that does "stuff" with him. I no longer have joint pain, menstrual problems, depression, low self-esteem, etc. Nor do I make sounds when I sleep. I am a new person. I look and feel different than I did before my surgery. I am very pleased with the surgery and would recommend it to anyone who is ready to be rid of the medical and mental problems that individuals with morbid obesity face.
If you would be willing to share your weight loss experience, contact us to send your story and pictures.