Krista - 160 lbs. Weight Loss
Submit Your Testimonial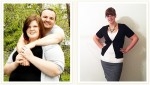 I was the chubby kid at age 8. By 12 I was pleasantly plump. When I was 18, I had womanly curves. I had a word for every size but what it was—unhealthy. I met my amazing husband when I was 22, 270 lbs., dress size 20. After getting married, I gained "happy fat" by going out to eat, staying home to watch movies, and not caring because I didn't have to impress him anymore. One day I woke up and was 360 lbs. and squeezing into a size 26.
I was unhappy, unhealthy, and embarrassed to be seen by anyone, especially my thin and adorable husband. I spent months trying to get healthy on my own but struggled in every way. No matter what I did, I gained weight. After soul-searching and pride-swallowing, I admitted that I needed real help if I wanted the life I had planned (children, adventures, etc.)
I visited a few weight loss centers in Salt Lake, trying to gather as much information as possible. The Bariatric Medicine Institute was the last stop and I knew it was the right one as soon as I walked through the door. They were helpful, patient and quick to respond to every question I had. I was amazed to find that less than a month after my initial orientation, I was approved and on the list for my gastric bypass surgery.
16 months later, I am 160 lbs lighter and still dropping. I can shop in whatever store I want with no fear of sizes (I LOVE asking the associates for the next size down!) I can go for walks with my husband without getting tired every 30 feet. I can finally live the life my personality has been aching for—I travel, go dancing, play games and can plan for a family.
I can't thank Dr. Richards enough for what she did for me and for my family. It wasn't easy by any means. There have been huge ups and downs. I had moments where I thought I made the biggest mistake of my life (heaven forbid I not drink Mountain Dew anymore!) But it's all worth it. To see the numbers keep dropping on the scale, the inches falling off, and the facial features finally showing! I believe my husband now when he says that I'm beautiful!
Thank you, Dr. Richards and BMI for giving me my life back! I hope everyone feeling trapped in the wrong body makes the same decision and takes control. Life is so much sweeter on the other side!!
If you would be willing to share your weight loss experience, contact us to send your story and pictures.