Linda: 113 lbs. Weight Loss
Submit Your Testimonial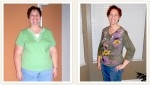 I can't describe how wonderful I feel since I had my gastric sleeve! Before surgery, my health was not good. I had Type II diabetes, high cholesterol, sleep apnea, knee and lower back pain. I was not able to get up off the floor without having to scoot over to the couch and push myself up with my arms. I could not get down and play with my Grandchildren. I had tried many ways to lose weight over the past 30 years: Weight Watchers, liquid diets, Nutra-Systems, Phen-Phen and many others. The weight would come off and then creep back on again, plus more.
Two years ago I switched doctors and when I went to him for the first time, and told him about my medical problems, he asked me if I ever thought about having gastric bypass surgery. I told him that I had known people that had it, and that I had heard some of the good and bad with it. Then, a few months later, my Orthopedic surgeon asked me the same question. At that point, I knew someone was trying to tell me that this should be something to look into.
I had a Sleeve Gastrectomy in July 2010 and I have lost 113 lbs. I can be on the ground and get right up, work out in the yard, and even mow the lawn. I'm healthier than I have been in a very long time. I get excited now when I go shopping for clothes, before it was a chore that I didn't like. I could never have done it without the support and love from the most wonderful husband and all my children. I thank Dr. Cottam for his knowledge and his gift for helping those of us who have struggled with losing weight.
If you would be willing to share your weight loss experience, contact us to send your story and pictures.