Maline - 107 lbs. Weight Loss
Submit Your Testimonial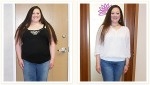 In July 1995, I was 19 years old, 5'8", and 110 lbs…. thin. In fact, I had been thin my entire life. Weight was never an issue for me. I decided to compete for the title of Miss Magna in association with the Miss Utah and Miss America organizations. Being as thin as I was, I had no fear of becoming a pageant queen and representing my township. I was crowned Miss Magna 1995.
Fast forward ten years… to 2005. I was 28 years old, and had struggled to keep my weight as low as it was in the 1990's, but I wasn't considered obese for my height. I weighed approximately 155-160 lbs.
Then, in March 2005, my fiancée passed away from acute pancreatitis. This experience was very traumatic for me and I became very depressed and reclusive, only leaving my home to go to work. I gained approximately 140 lbs. I was no longer the person I used to be and didn't like who I had become. Through the support of my family and mental health physicians, I decided to seek out surgical help for my weight.
I found a bariatric surgeon who placed the Realize gastric band for me in June 2008. I ended up having the Realize Band removed by Dr. Daniel Cottam because it had slipped. I waited 6 months for my stomach to heal from the slipped band and Dr. Cottam performed a Sleeve Gastrectomy in May of 2011.
The day after my surgery I was able to stop taking medication for high blood pressure. Eventually my CPAP was gone, as my sleep apnea had improved. Most of all, the weight was shedding off!
Dr. Cottam and all the other surgeons and staff at BMI Utah have truly saved and changed my life. I'm feeling like the woman I started to become when I was crowned as a pageant queen, and I feel like I am a positive example for, not just young girls with weight and body image issues, but everyone who struggles with obesity.
If you would be willing to share your weight loss experience, contact us to send your story and pictures.