Marril Lee: 112 lbs. Weight Loss
Submit Your Testimonial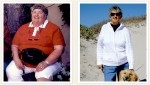 My story begins with my marriage in 1955. I was a slim (125 lbs), 5' 7" tall, young (18) and very happy to have found the man I wanted for my lifetime. We began having babies, and after twenty years we had produced eight very healthy children. But, along with that came the weight. I had trouble losing the extra weight after each pregnancy, and consequently I retained at least seven pounds after each one–so you see, that adds up.
Over the years I tried every weight loss pill, gadget, and advertisement on the market. I should hold the record for the number of times I joined Weight Watchers. In twenty years, I'm sure I joined that group at least that many times hoping for results that never came. I joined "Tops" (Take Off Pounds Sensibly) and I went to a three month long nutrition class at my local hospital, but to no avail.
In the 1990's, I was giving gardening seminars and speaking to large groups of people. That was very stressful for me, and "I believe" it brought on the hives. I had severe hives for seven long years. In that period of time, I was on varying doses of Prednisone, with weight gain being one of the side effects. I gained over 80 pounds on this medicine and my face was as round as a basketball. Finally, after seven years the hives just went away, but I weighed 304 pounds.
I was very unhappy with how I looked and I was embarrassed to go out in public. That was about the time I began hearing about "Lap Banding". I decided, after discussing it with my family, that it is what I wanted to do.
I had Adjustable Gastric Banding Surgery done by Dr. Christina Richards in January of 2009. I was slower than most I think, losing this weight, but I was so determined that I stuck with it and after two years I lost 112 pounds. This procedure literally changed my life. I went from a size 4X to size 14, which is such a wonderful feeling.
The beauty of Lap Banding, in my opinion, is that you can always regulate your weight and there is no need to gain the weight back. The Lap Band stays in you, unless for some medical reason you have to have it removed. After three years now, I am doing well and my only regret is that this procedure was not in existence when I was a younger woman. I would have done it thirty years ago if it had been available.
If you would be willing to share your weight loss experience, contact us to send your story and pictures.