Nicole - 143 lbs. Weight Loss
Submit Your Testimonial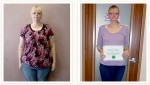 My journey began when I was just a teenager. I struggled with my weight going up and down, and then it would go up higher than it was originally. I found myself in my 30′s with back problems, type 2 diabetes, high blood pressure, and high cholesterol. I knew at that point, I needed a permanent solution. I decided to have a Gastric Bypass, with Dr. Richards as my surgeon.
When I met with the BMI team for my initial surgical consultation, I was at my highest weight ever: 316 lbs. The surgery was done May 17, 2011 and my life has completely changed! I have lost a total of 143 lbs. and I am in great health! I no longer have diabetes, high blood pressure, or high cholesterol. My back problems have also subsided. This was the best decision I have ever made in my life. Thank you to Dr. Richards and all the staff at BMI you changed and probably saved my life!
If you would be willing to share your weight loss experience, contact us to send your story and pictures.