Sandy: 75 lbs. Weight Loss
Submit Your Testimonial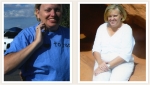 My name is Sandy. I am 46 years old. I am 5'8″ tall. My weight at its highest was 277 lbs.
I have had medical issues for about 10 years now, I have had disc degeneration in my spine and have had neck surgery and lower back surgery to remove discs and the stenosis so it would relieve the pressure, so I could do daily tasks. I was also seeing a Neurologist to see if I had M.S. After a few years of not being diagnosed my husband said I needed a second opinion so I decided to see a different Doctor.
He told me he thought I didn't have M.S. he thought it was something else, so more tests were run and on the week of Christmas 2008 he called me with the diagnosis of PLS (Primary Lateral Sclerosis). It didn't crush me when I received the diagnosis because I had been waiting for many years to know what I had and could see the progression of whatever I had taken its toll on my body so when he called it was more of a relief than bad news. I know there is no cure for it but I take life one day at a time with a smile on my face.
So after watching the Biggest Loser for a couple of seasons and watching my husband lose his weight so fast because of a gastric bypass in September of 2008 and the being diagnosed and been told I needed a wheel chair so I wouldn't tire myself out when I go to the store or somewhere when I'm doing allot of walking. I too decided that I needed too loose the weight because if I ever became wheelchairs bound I didn't want my care giver to have problems lifting me hi and out of my chair or bed, etc.
So in January 20091 decided to think about a gastric bypass and by march I was in visiting the Dr. For my initial appointment, and on April 28,20091 had my surgery. When I had my surgery, my weight was 248 lbs. It has been five months now and I have lost 75 lbs. and have about 6 lbs. to go. I am feeling good because of all that extra weight is gone and I do not regret having the surgery. It is fun to finally fit into clothes that I have not fit into since I was married and started having kids (25 years ago). It is so nice when you see people that you haven't seen for a while and they have to take a double take to see if it is you and then they say you are looking well skinny I didn't even recognize you.
It has not helped my disease any but just getting the weight off I don't breathe hard anymore, I know that my future will be better because of all of the things you can get from being obese like diabetes and such, and now I can be lifted in and out of my chair or bed easier (if it ever comes to that).
So I know that I have added years to my life by losing the weight. Thank You so much Surgical Weight Loss Center.