Steven - 250 lbs. Weight Loss
Submit Your Testimonial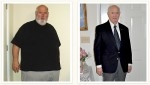 Life is just wonderful, but that is okay, because it is going to get better!
Three years ago, at 450 pounds, I had a hard time walking from one end of my house to the other without becoming exhausted. I never went into the basement because it was too hard to get back up the stairs. My doctor told me that on a scale of 1-10 my chance of having a heart attack was a 9. I was taking 18 pills and 70 units of insulin daily. I was mentally and physically thinking about, and preparing to die.
In 2008, I met Dr. Cottam and his team – what a great bunch! On July 14, 2008, I had a gastric bypass and my life changed forever!
Now, everything I do is exciting to me. It is fun to mow the lawn and shovel the snow, even when I know it is going to melt in an hour. It is wonderful to be able to do these simple things that I could not do before.
I have lost 250 pounds and feel great! My blood pressure is now 120/70 and the doctor has declared that I am cured of diabetes. The only pills I take are vitamins and minerals. By the way, I will be 72 years old this year!
When people ask me how I'm doing, I say "I'm doing absolutely stupendously wonderful, but not to worry, I am going to get better!" Gastric bypass surgery has given my life back to me!
If you would be willing to share your weight loss experience, contact us to send your story and pictures.