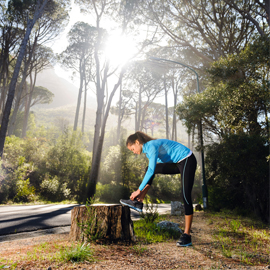 It might not be here quite yet, but spring is on the way. In no time at all the snow will be melting and the sun shining down just as powerfully as ever. Spring is a time of renewal, and after getting weight loss surgery in Salt Lake City there are plenty of reasons to embrace the spirit of the season and rededicate yourself to your weight loss goals. One way to do this is to plan on spending more time outdoors.
There are plenty of reasons to exercise outside. The fresh air, the sunshine, the constant availability of the world around you—these are just three of the reasons it would benefit you to take a step outside and show the world all you've got. Exercising outside can rejuvenate your spirit by connecting you with the outside world in a way that a stationary bike or elliptical machine at the gym cannot.
When you get outside you are in constant contact with your neighbors, nature and wildlife. Vitamin D from the sun will give you extra energy and even boost your immune system as you push yourself physically. The typical result of an outdoor workout is mental and physical renewal, which can help you stay motivated and on track with your weight loss goals as you lose weight after weight loss surgery.
Here are a few ways to spend more time outside this spring:
Go for a walk: Who needs a treadmill? Gyms are great in the winter, but when the sun is shining you can take advantage of the scenery and go for a nice brisk walk through your neighborhood or on a local trail. Walking outside will give you natural challenges as you climb uphill and increase your speed going downhill.
Swim: When you were a kid swimming probably didn't feel like a chore. This is one activity that many people overlook as a workout thanks to how much fun it is. Get in the water and splash around. Swim laps across the pool at your community center or enjoy the fresh water of a local lake near your home.
Join a team: Adult leagues are forming all throughout Utah. Sport teams are a great way to make new friends who share your interest in being more active and will give you a scheduled time to work out every week. Check with your city's local park and recreation department to find out what teams are forming near you.
Are there any other ways you like to be active while spending time outside? Share your thoughts and experiences in a comment below.