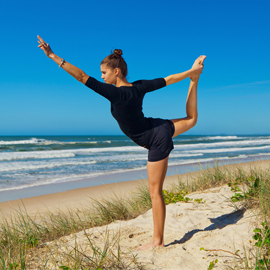 You have many choices for exercise after weight loss surgery in Utah, but few will boost the health of your body and mind quite like yoga. For thousands of years, this meditative, invigorating workout has been helping people develop full-body fitness and keep stress under control, and it can do the same for you as you lose weight.
Yoga is so helpful after bariatric surgery because it can:
Relieve stress and pain
Improve your self-confidence
Help you foster a state of emotional calm
Build muscle strength, flexibility, balance and dexterity
Though you should always speak with us before trying a new workout like yoga, this activity is typically quite gentle and can be adapted to any level of skill or physical fitness. Yoga is about more than just movement—along with poses and bends, the practice places an emphasis on deep breathing and meditation, which are things you may be able to do even as you recover from bariatric surgery.
Most people will be prepared to start tackling the more physical aspects of yoga about six months after weight loss surgery. When this time comes, you may be interested in diving into the practice, but unsure of where to start. You can help yourself ease into yoga by:
Taking a class. This is the best way to learn the ropes. Though there are many books, DVDs and online videos that can get you started, it's best to learn from an expert, especially if you're doing yoga for the first time. Look for yoga studios in your area, or ask about classes at your gym. Having the right teacher can be a big help, so find someone with a style personality you like.
Practicing on your own. This is where those books and videos can come in handy. After you learn a few basic poses and concepts in your classes, push your practice further by doing yoga on your own. One of the perks of yoga is that it can be done just about anywhere, any time—even if you only have a few minutes for your favorite pose or a few breathing exercises in the car, try to make yoga a consistent part of your life. Doing yoga every day will make it easier to take advantage of the practice's benefits.
Many people wonder about yoga, but as you improve your health and fitness after bariatric surgery, now is the perfect time to start. If you have any suggestions for yoga studios or teachers in the Salt Lake City area, let us know in the comments!