Craig – 230 lbs Weight Loss
Submit Your Testimonial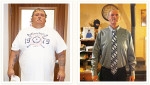 I have been heavy my whole life, even as a child, but I was also very active. I played baseball, basketball, and was always on the go – but could never really lose weight. When I worked in a casino I would walk miles all day from one end of the casino to the other and always stayed at the same weight. Then in 2005, I moved to northern Nevada to work in the mines and the weight really started to pack on. It got to the point that I could not do things around the house or walk for long periods of time without huffing and puffing. The weight even affected my intimacy with my wife.
Fast forward to 2010 – my health was getting worse and worse. When we would go out to eat we always had to sit at a table, as I couldn't fit into a booth. My self-esteem was completely gone! My attitude at work and home was absolutely horrible. I was diagnosed with diabetes as well. At this point I began looking into weight loss surgery. I found out my insurance would cover it, but I had to meet their requirements for them to do so. It felt like it was going to be impossible, but then someone from my Human Resource department referred me to the Bariatric Medicine Institute.
My first meeting with Dr. Cottam was the first day of my new life! I will never forget how he told me if I didn't have surgery then I would probably be DEAD in 5 years. Well I couldn't let that happen because my wife and I have been raising our granddaughter since she was tiny – and as far as she is concerned we are mom and dad. I have never had children nor wanted any, but when she came into my life I knew I had to be there for her and the only way that was going to happen was with Dr. Cottam's help.
The insurance process was a struggle – they denied my request at first, but after Dr. Cottam had a phone meeting with their Medical Director – they approved my procedure! I had a Duodenal Switch on December 21, 2012 and on that day I weighed 405 pounds. 1 year later I have lost a total of 230 lbs and feel better than EVER! My life wouldn't be what it is today without my hero – Dr. Cottam.
If you would be willing to share your weight loss experience, contact us to send your story and pictures.