Judy - 116 lbs. Weight Loss
Submit Your Testimonial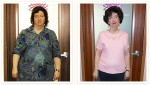 My decision to have weight loss surgery began about a year ago. I had been diabetic for 20 years, requiring insulin for the past 10. I had sleep apnea, high blood pressure, and severe back problems. My quality of life was just not good. I wanted to be able to spend more quality time with my children and grandchildren.
I had the Duodenal Switch at the end of November. Within a week of surgery I no longer needed to take high blood pressure pills. I lost about 45 pounds in the first month. I really wasn't hungry much during those first months, and my body would tell me when I could no longer eat. Unfortunately for me, I did experience quite a bit of nausea at first, but once I got that under control things continued smoothly. I learned my new eating patterns and enjoyed having my clothes fit better.
At five months out from surgery, I no longer had sleep apnea and I was taking only a very small amount of insulin. I also started to notice some hair loss because of changes in my nutrition, but even that is slowly coming back in.
I reached my goal of losing 100 lbs in June of this year, 7 months after surgery. I no longer have diabetes and have gone from a size 2X to a size 14 in my clothes. I regularly swim 3 days a week for an hour and ride my bike 2 days a week. I still have back problems, but I can do so much more now than I ever could before. If you are considering this kind of a change in your life, I would highly recommend it!
If you would be willing to share your weight loss experience, contact us to send your story and pictures.