Rosalinda - 167 lbs. Weight Loss
Submit Your Testimonial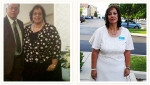 When I was younger I had no problem losing weight, but somewhere along the line I started to gain weight and could not take it off as easy, thus began the yo-yo diets. I was diagnosed with diabetes, high blood pressure, flat feet, and have had 2 total knee replacements. In 2010, I had the lap band procedure, but this did not help me to lose the weight I needed. In 2011, I relocated and found Dr. Cottam to do my band adjustments. He advised me that I had too much weight to lose to be able to reach my goal with the lap band, so he suggested a new procedure – the Duodenal Switch. At the time I had surgery I weighed 389 lbs. Talk about a switch!!! This procedure switched my whole life!
I have lost 167 lbs. since my surgery in November of 2012. I feel and look like a completely different person now! I no longer have diabetes or high blood pressure! I no longer use the Hoveround to help me get around. I do have spinal stenosis, but because of the weight that has come off I no longer need as much pain medication. I have my life back! I can once again walk hand-in-hand with my best friend – my husband!
If you would be willing to share your weight loss experience, contact us to send your story and pictures.